By: Justin Martinez (@JustJustin956)
LaVar Ball is here to stay. Get used to it.
The father of Lonzo, LiAngelo and LaMelo Ball is the loudest voice in sports. He's as polarizing as they get, but don't think for a second that it's all an act.
"He's been like that my whole life, so it's nothing new for me," Lonzo said at a presser on March 16. "You guys just got a camera in front of his face now, so you're all seeing it for the first time."
And the cameras love him.
LaVar may not be a player in the NBA, but he refuses to be a side character. Instead, he's dug his heels into the spotlight.
LaVar publicized his first wild claim on November 24, 2016, guaranteeing on national television that his son Lonzo would lead UCLA to a championship. It's a written check that was never cashed in. The Bruins were kicked out of the tournament by Kentucky in the Sweet 16, but that didn't squash LaVar's spirits one bit.
The ultimate hype man bounced back with an even bolder statement on February 19, 2017, saying that Lonzo, an 18-year old freshman at UCLA, was already better than the two-time MVP, Stephen Curry.
"I have the utmost confidence in what my boy is doing," LaVar told a sideline reporter at the USC vs. UCLA game the following day. "He's better than Steph Curry to me. Put Steph Curry on UCLA's team right now and put my boy on Golden State and watch what happens."
That got everyone's attention, including Hall of Famer Charles Barkley.
"Just because you say some (expletive), doesn't make it right," Barkley told Sporting News. "I know you can be proud of your son, but at some point, it becomes stupidity."
It quickly became apparent that this was no ordinary athlete's parent we were dealing with. But despite LaVar's antics, there was no denying that his sons could play.
The youngest Ball brother, LaMelo, had just recently scored 92 points in a high school game for Chino Hills. LiAngelo, the middle child, was committed and ready to play for UCLA in 2017.
And then there was Lonzo, the quietest of the three. While LaVar was giving an earful to anyone who'd listen, Lonzo was silently setting the NCAA aflame, averaging 14.6 points and 7.6 assists for UCLA while shooting 41 percent from behind the arc. The oldest Ball brother was described by NBA scouts as "Jason Kidd with a shot" – a surefire lottery pick.
But LaVar only wanted Lonzo to play for one team: His hometown Los Angeles Lakers.
"My son will only play for the Lakers," LaVar bluntly said on the Kevin and Mike on February 25.
People around the league were starting to get fed up. From LeBron James mocking Lonzo's shooting form to Joel Embiid asking Ben Simmons to dunk on Lonzo, one of the quietest players in the country now had a target on his back all thanks to his father.
But LaVar was just warming up. It didn't take long for him to make another wild comparison, this time taking aim at Michael Jordan. No, he wasn't comparing Lonzo to MJ. He was comparing himself to the greatest player of all time.
"Back in my heyday, I would kill Michael Jordan one-on-one,'' Ball told USA Today on March 13. "He better make every shot 'cause he can't go around me. He's not fast enough. And he can only make so many shots outside before I make every bucket under the rim."
Well that just pissed people off. LaVar did play college basketball for one year back in 1988. He averaged a whopping 2.2 points off the bench for Washington State before transferring to Cal State Los Angeles, a Division II school. For reference, Jordan was averaging 35 points per game with the Chicago Bulls during that same year.
To his credit, LaVar stuck to his guns. He didn't even budge when Stephen A. Smith berated him on First Take.
Meanwhile, Lonzo had just finished his rookie year with UCLA. It didn't take long for him to declare for the NBA Draft.
"That was my final game for UCLA," Lonzo told ESPN's Jason Smith shortly after the loss to Kentucky in the Sweet 16. "I appreciate the fans."
The Ball brothers all represented their family brand, Big Baller Brand, proudly, but Lonzo looked like a lock to land a deal with one of the major sneaker and apparel companies.
But LaVar, the self-proclaimed agent of Lonzo, wasn't ready to let his son ink a deal just like that. No, he wanted a $1B deal for all three of his sons combined.
"A billion dollars, it has to be there," LaVar told USA Today on March 13. "That's our number, a billion, straight out of the gate. And you don't even have to give it to me all up front. Give us $100 million a year."
Nike, Under Armor and Adidas didn't take too kindly to those demands.
On April 30, sources told ESPN that all three of the major companies were not interested in making a deal will Lonzo. Nike executive George Reveling even went so far as to call LaVar "the worst thing to happen to basketball in the last hundred years."
The decision marked the first time that all three of the top sneaker and apparel brands passed on an anticipated top draftee.
LaVar didn't care. Instead of folding and begging Nike for forgiveness, he blazed his own trail.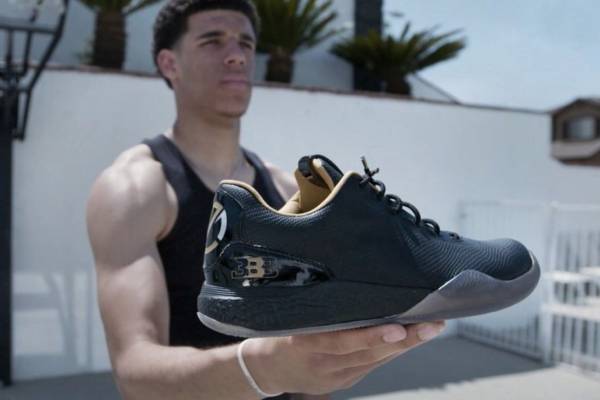 Lonzo made history on May 4 when he became the first player to enter the NBA draft with his own independently-made signature shoe.
That's right. Under the family brand, Lonzo released the ZO 2s, a sleek low top pair of shoes retailing at an insultingly-high price of $495.
Social media had a field day, but LaVar was about to get the last laugh. The NBA Draft was approaching, and all signs pointed towards the Lakers selecting Lonzo with the No. 2 overall pick.
LaVar was so sure that his son would soon be wearing purple and gold that he directed Lonzo not to work out with any other team.
"That's all we working out for is the Lakers," LaVar told Lakers Nation on May 16. "Just the Lakers. There's nobody else that we need to work out for."
It was a risky decision, but it's what we came to expect. Draft night came around, and all the cameras were on the Ball family.
LaVar got his wish.
The Lakers selected Lonzo with the No. 2 overall pick in the draft, and LaVar made sure everyone knew that he called it.
"I told you," LaVar shouted into the cameras after NBA commissioner Adam Silver announced the selection. "From the words of Zeus, Jesus, everybody said he gonna be a Laker. Here we come."
Finding a word that properly describes LaVar Ball isn't easy. Crazy? That's close. Brilliant? Sure, to some people. But no matter how you feel about the man, you have to respect that he's always there for his sons.
We've heard of countless cases where athletes grew up without a father figure in their lives, and I'm sure they'd rather have a dad who cares too much then one who doesn't care at all.
It may seem like LaVar is just tagging along for the ride – a no-name college player living out his dreams through his sons. But there's a method to the madness.
LaVar certainly hasn't taken the conventional marketing approach, but the Ball brothers are household names now because of him.
And the talent is there, too. Lonzo is capable of doing great things in the NBA for years to come, and his brothers hope to do the same.
It doesn't matter if LaVar is seen as the villain of the NBA. He couldn't care less.
LaVar Ball set his kids up to succeed in life. He's done his job.