By: Justin Martinez (@JustJustin956)
What a time to be alive.
The NFL is back, but for real this time. We're not talking about draft night, training camp, or some preseason game filled with future CFL players. We're talking about week one of the regular season, baby.
Jerry's World is open for business, Bill Belichick is still channeling his inner Emperor Palpatine in that grey hoodie and Matt Ryan is ready to get his Falcons off to a great start… but not much else.
Ladies and gentleman, here are our week one predictions.
Kansas City Chiefs vs. New England Patriots
The day the Patriots start losing home games is the same day Marshawn Lynch makes the switch to M&Ms. Seriously, New England is a whole other level of dominant at Gillette Stadium. Over the past five seasons, the Patriots hold a regular-season home record of 34-6. Add in the recent trade for stud wide receiver Branding Cooks, and this team is the closest thing in sports to a guarantee in front of its home crowd. Sure, Julian Edelman went down in the preseason, but this is Tom freakin' Brady we're talking about here. This is a guy who managed to bring relevance to the name Brandon LaFell. The road to ring number six starts this Thursday, and you can expect it to start with a win.
Prediction: Patriots 31, Chiefs 20
Arizona Cardinals vs. Detroit Lions
The Lions front office believes Matthew Stafford is their guy, So much so that they signed him to a five-year, $135 million deal deal, making him the highest paid player in the history of the league. He'll be put to the test in Detroit's season opener as the Lions take on an Arizona team that recorded 48 sacks last season. With the loss of offensive tackle Taylor Decker, Markus Golden and company are licking their lips. Ultimately, Detroit's all-to-familiar struggles on the ground will prove fatal, and the Cardinals will squeak one out in the Motor City.
Prediction: Arizona 24, Detroit 23
New York Jets vs. Buffalo Bills
Every now and then the stars align and the Jets manage to come out with a win. That won't happen this Sunday. The Bills are by no means the 1972 Dolphins. Buffalo shipped off lead wide receiver Sammy Watkins and prized cornerback Ronald Darby this summer, but that's nothing when you compare their offseason to the absolute fire sale New York had. Brandon Marshall? Gone. Eric Decker? So gone. Sheldon Richardson? He's never coming back. The Jets have less weapons than the Canadian army, and 38-year-old quarterback Josh McCown doesn't exactly instill confidence under center. Both teams are in store for a forgettable season, and the only people that'll watch this game are those that own LeSean McCoy in fantasy football (myself included). But hey, at least the Bills will start their forgettable season off with a win.
Prediction: Buffalo 24, New York 13 
Atlanta Falcons vs. Chicago Bears
The Falcons plan to take all their frustration out on a Chicago squad filled with mediocrity. Things look bleak for Mike Glennon and the Bears after the team saw the departure of Alshon Jeffery and witnessed the gruesome injury of Cameron Meredith in the preseason. Meanwhile, Atlanta is bursting at the seams with talent such as Matt Ryan, Julio Jones, Devonta Freeman and Vic Beasley. Bears running back Jordan Howard will see plenty of work, but that won't be enough when Atlanta turns the game into a shootout.
Prediction: Atlanta 34, Chicago 17
Baltimore Ravens vs. Cincinnati Bengals
If it wasn't for the name on the front of their jerseys, you wouldn't even know Baltimore was playing the Bengals. Cincinnati will roll out a shell of its roster come Sunday. Left tackle Andrew Whitworth and right guard Kevin Zeitler left in the summer, and both linebacker Vontaze Burfict and cornerback Adam Jones are serving suspensions. Rookie wide receiver John Ross is out as well with a knee injury. That doesn't bode well for Cincinnati, especially with Joe Flacco expected to play after missing the entire preseason with a back injury. The Bengals are the better team, but the Ravens should be able to take down this hobbled version.
Prediction: Baltimore 23, Cincinnati 17
Pittsburgh Steelers vs. Cleveland Browns
The Steelers are a force to be reckoned with this season, and they'll look to prove that in week one against the proverbial Fredo Corleone of the NFL. The Browns are a heap of incompetence. Rookie quarterback DeShone Kizer will get the start, and he'll be tasked with trying to keep pace with a Steelers offense that's one of the best in the league. Ben Roethlisberger, Le'Veon Bell and Antonio Brown are as close to a Big Three as you'll see in the NFL, and they'll have a field day against a Browns defense that'll be without prized rookie Myles Garrett. Start saying a Hail Mary, Cleveland.
Prediction: Pittsburgh 31, Cleveland 13
Houston Texans vs. Jacksonville Jaguars
Houston will have the entire state of Texas behind it on Sunday when the Texans take on Jacksonville in NRG Stadium. Houston boasts the best defense in the league, and JJ Watt and company plan on making Jacksonville rookie Leonard Fournette fight for every inch. Tom Savage gets the nod at the quarterback spot for the Texans, where he plans to get star wide receiver DeAndre Hopkins involved early and often. The Jaguars have plenty of talent for the future, but a road win against a team with extra motivation is too tall of an order.
Prediction: Houston 20, Jacksonville 13
Oakland Raiders vs. Tennessee Titans
The Raiders head to Tennessee this Sunday in a battle that features two of the most promising young quarterbacks in the league. Oakland, led by a healthy Derek Carr, is due for a deep postseason run. Wide receiver Amari Cooper is a monster in the passing game, and running back Marshawn Lynch could be a game-changing additon should he managed to channel his inner Beast Mode once again. But Titans quarterback Marcus Mariota has his fair share of weapons as well. Tight end Delanie Walker is one of the best players at his position, and All-Pro running back DeMarco Murray didn't miss a step last season when he left Dallas for Tennessee. Oakland gets the slight edge in a game that'll be more fun than a barrel of monkeys (which apparently is pretty fun and not at all something PETA should contact me about).
Prediction: Oakland 34, Tennessee 28
Philadelphia Eagles vs. Washington Redskins
Redskins head coach Jay Gruden sleeps pretty well the night before his team takes on Philadelphia. Washington hasn't lost a game to the Eagles since Gruden took over in 2014. People were still playing Flappy Bird at the time. But streaks are meant to be broken. Sophomore quarterback Carson Wentz is ready to break the curse, and Philadelphia's additions of wide receiver Alshon Jeffrey and cornerback Ronald Darby are all the more reason to believe it can be done. It'll take patience for Kirk Cousins to sync up with his new receiving core after the departure of DeSean Jackson and Pierre Garcon, and that could provide just enough time for the Eagles to sneak out of Washington with a win.
Prediction: Philadelphia 24, Washington 20
Indianapolis Colts vs. Los Angeles Rams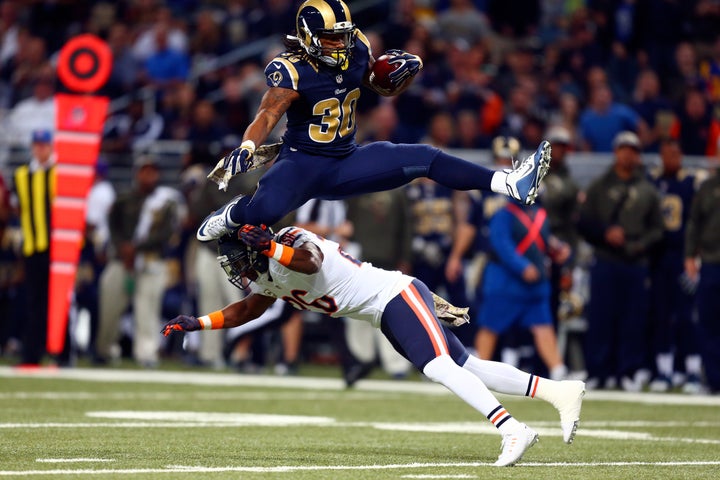 I've been told that the Colts are a pretty good team when Andrew Luck is healthy. Unfortunately, that remains to be seen. Luck has (unsurprisingly) been ruled out for week one of the season with an injured shoulder, opening the door wide open for a sub par Rams squad that'll take a win any way they can get it. Running back Todd Gurley had a more disappointing sophomore showing than Caddyshack 2, but he'll hope to turn things around in a system that'll give him every opportunity to make it happen. It's not saying much, but Los Angeles should be able to beat an Indianapolis team led by Scott Tolzien.
Prediction: Los Angeles 27, Indianapolis 16
Carolina Panthers vs. San Francisco 49ers
Speaking of the Caddyshack franchise, I'm not sure which side to Cam Newton we'll see this season: The lovable Bill Murray or… whoever had the lead role in Caddyshack 2. My bet is that Newton returns to being an elite dual-threat quarterback thanks to new weapons such as rookie running back Christian McCaffrey. Kelvin Benjamin should have his way with a depleted 49ers secondary, and the Panthers will cruise to a comfortable week one win.
Prediction: Carolina 30, San Francisco 16
Green Bay Packers vs. Seattle Seahawks
I like to think people who live in Wisconsin wear those cheese heads all year, but that's only in a perfect world. Either way, fans will certainly be wearing them this Sunday in Lambeau Field. Let's be honest, Aaron Rodgers could take a group of Boy Scouts to the playoffs, but the return of his best friend forever, Jordy Nelson, is just icing on the cake. The Seattle defense is a formidable foe, though, especially since adding Pro Bowl defensive tackle Sheldon Richardson, but you'd be foolish to bet against Rodgers and the gang at home.
Prediction: Green Bay 28, Seattle 21
Dallas Cowboys vs. New York Giants
Alert all the Salvation Army kettles in the surrounding area: Ezekiel Elliott is back… sort of. Elliott's six-game suspension was upheld (before you google that, it means it still stands) on Wednesday. However, Elliott's current appeal allows the pro bowl running back to play until the final decision is made next week. In short, New York better watch out. Expect the Giants to legitimately contend for their first division title since 2011, but don't expect them to start off with a win.
Prediction: Dallas 27, New York 24
New Orleans Saints vs. Minnesota Vikings
In this week's episode of The Old and the Reckless, we see the return of Adrian Peterson to Minnesota. After giving the best nine years of his life to the Vikings, Peterson got cast aside. Now the 32-year-old phenom comes back as a member of the Saints only to find that his former team has replaced him with a younger Dalvin Cook. DUN DUN DUN DUN. Peterson tries his best to exact his revenge, but New Orleans just doesn't have the firepower, and Minnesota prevails. Tune in next week for the latest installment of The Old and the Reckless.
Prediction: Minnesota 34, New Orleans 28
Los Angeles Chargers vs. Denver Broncos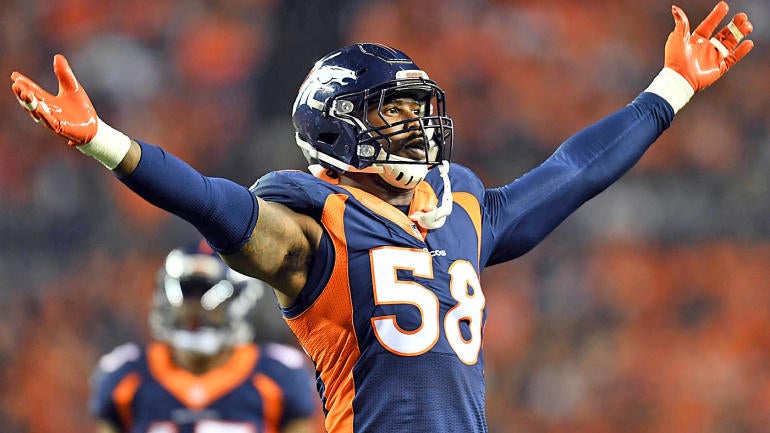 Week one of the NFL regular season comes to an end Monday night as the Chargers take on the Broncos in a game that figures to be low scoring. Denver is starting Trevor Simian, and the Broncos defense packs a bigger punch than the kicking net that took out Odell Beckham Jr. last season. Los Angeles is returning a healthy Keenan Allen and Melvin Gordon, but that Broncos defense will prove too powerful.
Prediction: Denver 16, Los Angeles 13