By: Justin Martinez (@JTheSportsDude)
Week Seven Recap
Record: 12-3
Biggest stroke of genius: Picking Oakland to upset Kansas City
Biggest regret: Placing my trust in Carolina
What a week. We saw the ejection of Marshawn Lynch, the demise of Carolina and the tale of one man's bond between him and his bike.
A 12-3 record is plenty respectable (especially after Drew's record-low 9-7 debacle), but I'm still looking for that elusive perfect outing.
It's going to take wits, luck and perhaps some Patriot-like cheating to get all these picks right, but I'll give it a shot. Here are my predictions for week eight of the NFL.
Miami Dolphins vs. Baltimore Ravens
Miami has showed me something as of late. The Dolphins squeezed out a hard-earned 31-28 win over an underrated Jets squad last week despite being without Jay Cutler and DeVante Parker. This team has no quit in them, and they should take care of business against a Ravens squad that's more bland than a bowl of Cheerios with no milk.
Prediction: Miami 17, Baltimore 14
Minnesota Vikings vs. Cleveland Browns
I'm sorry, London. I'm sorry that we're shipping out the Browns to you as representatives of our league. The Brits probably haven't seen such sorry talent since Justin Bieber's last world tour, but at least they'll get to watch Latavius Murray running amuck.
Prediction: Minnesota 24, Cleveland 16
Oakland Raiders vs. Buffalo Bills
We did it, guys. We finally had an Amari Cooper sighting. This guy was harder to find than a good deed by Vontaze Burfict, but Cooper exploded in the Raiders' 31-30 win over Kansas City. The struggling wide receiver posted a video-game-like stat line of 210 yards and two touchdowns on 11 catches, which is 64 more yards than what he managed to put up in the first six weeks combined. Buffalo may be at home, but it's looking like Oakland has finally snapped out of its sleepwalking phase, and that's bad news for the Bills.
Prediction: Oakland 28, Buffalo 17
Indianapolis Colts vs. Cincinnati Bengals
A.J. Green mustered up just 41 yards on three catches against a stout Pittsburgh defense last week, but the upcoming matchup against Indianapolis should have him downright salivating. The Colts defense is the poster child for dysfunction, and Cincinnati should roll here.
Prediction: Cincinnati 23, Indianapolis 10
Los Angeles Chargers vs. New England Patriots
If you follow my weekly predictions, you've probably noticed by now that every photo for the Patriots is either of Tom Brady or Rob Gronkowski. Well, that's because I have no choice. This duo is all the Patriots have going for them right now, but that should be enough to beat the Chargers in Foxboro.
Prediction: New England 31, Los Angeles 13
Chicago Bears vs. New Orleans Saints
Mark Ingram is playing like a guy who finally got permission from his professor to do his project individually instead of in a group. The six-year bulldozer has run for back-to-back 100+ yard games since the departure of Adrian Peterson, and he'll look to continue his hot streak at home against Chicago.
Prediction: New Orleans 28, Chicago 23
Atlanta Falcons vs. New York Jets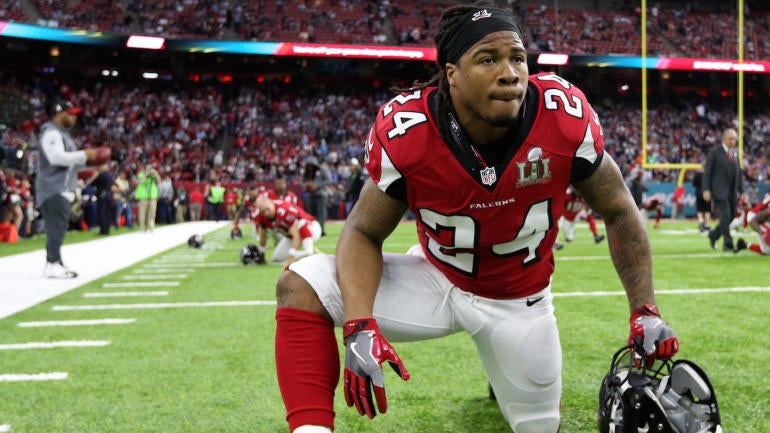 What's wrong with Atlanta? I'll tell you, hypothetical person. The Falcons offense is broken. Matt Ryan is in full-on Super Bowl form (which is bad in his case), Julio Jones can't catch a cold and the run game is a bigger disappointment than Drake's Views. The outcome of this game will be dependent on whether Devonta Freeman can get the better of a stingy Jets defense. My guess is that he will, but it's a shaky guess.
Prediction: Atlanta 20, New York 14
San Francisco 49ers vs. Philadelphia Eagles
With the injury to Aaron Rodgers, the Eagles have emerged as the clear favorite to come out of the NFC. Philadelphia is grooving right now, and Carson Went and Zach Ertz are having a bigger bromance than Joey and Chandler from Friends. Ertz leads all tight ends with 494 yards on the season, and San Francisco will have no answers for this deadly duo.
Prediction: Philadelphia 35, San Francisco 17
Carolina Panthers vs. Tampa Bay Buccaneers
Here I was, about to call the Panthers Super Bowl contenders. And then they went and lost to the Bears. That's right, the Bears! I haven't been this surprised since the last time the Browns completed a forward pass. Shame on you, Carolina. Give me the Buccaneers in my weekly spite-fueled prediction.
Prediction: Tampa Bay 24, Carolina 23
Houston Texans vs. Seattle Seahawks
My gut is telling me that DeShaun Watson is the real deal. Sure, it's the same gut that convinced me to get a Zune instead of an iPod when I was a kid, but still. Houston just has something special about it when its stud rookie is taking snaps, and I'm all in. I'm taking the Texans on the road against Seattle.
Prediction: Houston 21, Seattle 17
Dallas Cowboys vs. Washington Redskins
One of the biggest unsung heroes this season has been Chris Thompson. The speedy back leads Washington both on the ground (213 yards) and through the air (336 yards). The Redskins will need that production to continue as they host Dallas on Sunday, and I'm going with the red and yellow.
Prediction: Washington 24, Dallas 21
Pittsburgh Steelers vs. Detroit Lions
Perhaps the most compelling story to follow this past week was Juju Smith-Schuster's quest to find his recently-stolen bike. It's a story so funny that it makes The Mask look like Son of the Mask. And with Juju and his bike now reunited, the only thing left to end this enthrolling saga is a win in Detroit. It won't be easy, but wheel see what happens.
…I'm just the worst, right?
Prediction: Pittsburgh 27, Detroit 24
Denver Broncos vs. Kansas City Chiefs
The Broncos have fallen off harder than MC Hammer as of late. Denver followed up its embarrassing defeat to a winless Giants squad with a pathetic 21-0 loss to the Chargers in week seven. Sure, the Chiefs are trending downwards as well, but at least they have the offensive firepower to turn things around. Give me Kansas City in a game that I might've been tempted to watch three weeks ago.
Prediction: Kansas City 20, Denver 10